Nycha Has a New Plan to Clean Up Rats, Mold and Lead Paint: Bring in Private Landlords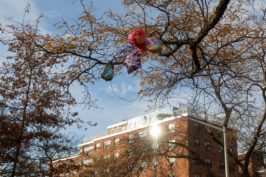 Publication: New York Times
By: Luis Ferré-Sadurní and Frank G. Runyeon
The New York City Housing Authority is considering a plan to hand over the day-to-day management of 62,000 apartments to developers who would renovate and make repairs to the units, effectively privatizing the operation of more than a third of the stock in the nation's largest public housing system.
The authority may also sell unused air rights and speed up a plan to allow developers to build market-rate apartment buildings on land it is underusing at its housing complexes, according to details of the plan obtained by The New York Times.
These aggressive measures would preserve low rents through federal subsidies and would generate at least $15 billion worth of urgently needed repairs.
The plan comes as Mayor Bill de Blasio, who has made affordable housing the cornerstone of his administration, is under intense pressure to overhaul the agency. In June, federal prosecutors accused the Housing Authority of allowing its 175,000 apartments to deteriorate into barely habitable dens of mold, rodents and lead paint hazards while trying to cover up mismanagement.
On Wednesday, a federal judge rejected a sweeping settlement that would have imposed a monitor to oversee the authority, implying that the United States Department of Housing and Urban Development should take over the agency's operations.
"It's quite clear that we need to do something much bigger," Mr. de Blasio said in an interview Thursday. "We simply cannot address people's needs if we don't get a huge amount of resources in. That's what this plan will ultimately address. It's ways to bring in a lot more money to help fix developments."
Mr. de Blasio said that the plan, called "Nycha 2.0" inside City Hall, still needs to be finalized and will be released before the end of the year.
If New York pushes ahead with the idea, it will be following the lead of other cities, such as Chicago and San Francisco, that have entered into similar partnerships. Earlier this year, New York said it planned to convert 20,000 apartments, but this plan adds another 42,000 units and accelerates the timeline. The shift would occur over a decade.
Some of the deals with developers would be struck through a federal initiative called the Rental Assistance Demonstration program, an Obama-era housing program that has expanded under President Trump.
Through R.A.D., apartments would be converted to the federal government's Section 8 housing program, a subsidy that limits rents to 30 percent of a tenant's income. Developers would lease the buildings from the Housing Authority and run them just like private landlords while collecting the rent and subsidies.
It typically takes HUD four to six months to approve conversions, said Thomas R. Davis, the director of the office of recapitalization at the federal agency. Nycha officials have had preliminary discussions with HUD, Mr. Davis said.
Councilwoman Alicka Ampry-Samuel, the chairwoman of the public housing committee, said the plan would work only if there are strong tenant protections in place.
"If the private company is a good actor, a decent landlord, it works out for everyone. It'll be new and shiny," Ms. Ampry-Samuel said. "But after a while, if things go wrong and things get worse, people aren't going to be happy in the end."
The Housing Authority would retain oversight of the buildings, including conducting regular inspections.
In 2017, the Housing Authority converted all 1,397 units of the Ocean Bay Apartments in Far Rockaway, Queens, under R.A.D. The development's 24 seven-story buildings, which were flooded during Hurricane Sandy, underwent $560 million in restorations.
Many of the nearly 4,000 tenants benefited from a top-to-bottom makeover at the complex, including bathroom and kitchen renovations. The complex is run by Wavecrest Management.
"They changed everything," said Mariam Diabate, holding her 1-year-old daughter, Kadidja, in their converted apartment. Their kitchen has new appliances, and they have had no need to ask for any repairs yet, she said. "It's nice. We love it."
More than a dozen tenants at Ocean Bay interviewed by The Times this week said that the crime, filthy stairwells, moldy walls, rodents and cockroaches that were once common at the buildings have largely disappeared. A handful of tenants said they had to wait for months for some repairs.
Juan Roman, the general manager at Ocean Bay, said his staff was working to improve communication with tenants. However, he said, some problems were exaggerated and residents sometimes waited before coming forward with issues.
Housing advocates were cautiously supportive of the plan. Leases and protections built into R.A.D. would guard against the possibility that private developers could turn the units into market-rate apartments, said Rachel Fee, the executive director of the New York Housing Conference, a housing policy and advocacy nonprofit.
Not every conversion would happen under R.A.D. Most would occur through another federal program called Section 18, which provides Tenant Protection Vouchers.
Advocates warned that without carefully constructed agreements, tenants could have different rights even within the same housing complex.
"If they are pushing ahead now at such great speed, we have to make sure there are major protections involved," said Lucy Newman, a lawyer at the Legal Aid Society.
Mr. de Blasio vowed to keep public housing a "permanent part of the landscape" in New York and tried to quell fears that privatization would push tenants out.
"I absolutely understand their fears, and I sympathize, and I want to make sure that day never comes," the mayor said. He said he worried that if buildings continued to deteriorate, they would eventually be torn down, as in Chicago and St. Louis.
"I think that's horrifying and I could never live with any approach like that," Mr. de Blasio said.
Historically, Section 8 has received steady funding, while over the past two decades, public housing authorities have lost federal money.
"Section 8 is one of the most successful programs providing thousands of people with housing across the city," said Councilman Ritchie Torres, a supporter of the plan and an advocate for public housing in the Council. "Developments that have been starved of resources for decades will have new roofs and new boilers."
However, Mr. Torres said, the plan does not address overall mismanagement at the top levels of Nycha.
The privatization of building management also raised questions about the future of Nycha employees.
Housing Authority workers at the Ocean Bay apartments were relocated to other developments and replaced with private contractors after the conversion, said Gregory Floyd, president of Teamsters Local 237, which represents the largest number of workers at the Housing Authority.
"The potential here is good-paying jobs will be lost for private low-paying jobs," Mr. Floyd said.
Mr. de Blasio said that, under the new plan, Nycha workers would not be fired and instead transferred within the system.
"Everyone who works for Nycha now will continue to have a job with Nycha, period," the mayor said.
The housing agency is also considering transferring a portion of its 80 million square feet in air rights to adjacent privately owned buildings. That could generate $1 billion for repairs and maintenance, according to preliminary projections.
The plan would also accelerate the construction of private residential buildings on underused Nycha land, such as parking lots, to generate about $2 billion worth of improvements and repairs at adjacent Nycha buildings. The housing agency would lease the land long-term while retaining ownership.
Constructing private residential developments on Nycha land has long been a contentious issue among residents who fear it fuels gentrification and opens a path to the future privatization of public housing.
More than 2,400 affordable apartments have been built or are being built on Nycha land. About 800 apartments are being planned in new buildings that are half affordable and half market rate.
City officials said it is unclear how many new developments would go up, but they would range from buildings that are entirely affordable for lower-income tenants to buildings with a mix of market-rate and affordable units.
More market-rate apartments would mean more revenue for Nycha but would also conflict with the mayor's stated commitment to build affordable housing.
"There's a big tension between the mayor's affordable housing plan and an effort to generate more money for Nycha to repair its units," said Maria Doulis, vice president of the Citizens Budget Commission, a city budget watchdog. "To date, the preference has been to do 100 percent affordable buildings. The question here is: Are they shifting the balance?"
Click here for the article online.