Face mask and hand sanitizer giveaway at the Betances Houses in Mott Haven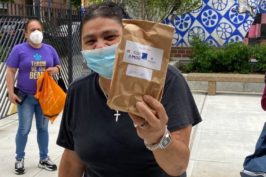 Publication: Bronx Times
By: Alex Mitchell
A large facemask and hand sanitizer giveaway took place at Betances Houses in Mott Haven over the past few days.
The supplies, which were donated by Catholic Charities of the Archdioceses of New York and RDC Development were offered to all tenants of the 39-building, 1,088-unit apartment complex, according to organizers.
Distribution took place over three days at various times throughout different parts of the housing complex as a way of maintaining social distancing, the organizers also noted.
Tenants additionally received information about local food pantries, interim recertification, the 2020 census, job and unemployment assistance, SNAP applications, testing centers for COVID-19, and how to sign up for Homebase assistance.
Click here for the article online.